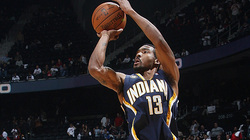 New Orleans had made a two-year offer to point guard Luther Head to be Chris Paul's backup.
Make that, former general manager Jeff Bower did. He's out now. And the Hornets — and whoever is making player/personnel moves right now — have informed Head that he failed the physical and have pulled the offer off the table.
Head's agent, Mark Bartelstein, is pissed.
He first told the Associated Press that Head is perfectly healthy, thank you very much. And that the timing of the move by New Orleans is "unsettling." Well, that's the word he used in public, in private you can bet far more colorful terms were used.
The Hornets are not talking.
Meanwhile, Head is back on the market looking for a job.