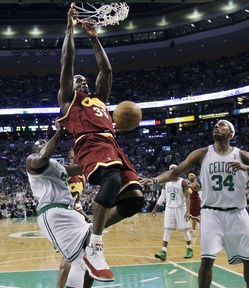 Of course Shaquille O'Neal wants to be in Miami — he likes to be in the middle of the circus (as one Heat source said in Vegas). And next season there will be no bigger circus, no bigger spotlight than Miami. Plus, they could use a center, so…
So what?
When Shaq left Miami last time, he took parting shots at Pat Riley. And Riley still runs the show there, he is the exec who just pulled off the impossible. You think the franchise will welcome Shaq and his ego back now? Our own Ira Winderman, the Heat beat writer for the Sun-Sentinel, heard and tweeted the same thing.
Can't stop the chatter, but any Heat-Shaq interest being floated out there apparently is a one-way street coming from Shaq's side.
Pat Riley coached during part of Shaq's time in Miami and he had the cojones to stand up to Shaq — warned him stop talking about how the Lakers treated him, and to say nothing about Stan Van Gundy. Shaq was quiet.
Until he left. Then he slammed Riley, saying he sabotaged his time there, even saying the Heat did not give him proper medical treatment.
You think Riley forgets that? And for the record now, that is a bad breakup in Orlando, then Los Angeles, then Miami and… why do you want to bring him on to your contender again.
Shaq is a physically larger (much physically larger) version of Allen Iverson from last year — he wants more money and a larger role than his skills dictate any more. That could lead to a locker-room distraction.
Atlanta is rumored to have offered him the mid-level exception of $5.8 million for two years, but they want him to come off the bench. The Cavaliers are trying to use Shaq in a sign-and-trade to get Marvin Williams from the Hawks. Shaq is thinking about it. But he may not have any other options (the Spurs are not interested and Dallas got their big men).
And Miami is not going to happen.