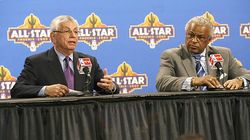 The owners had their meeting this week, and afterward David Stern talked about needing a fundamental change in how the economic structure of the NBA.
Today, NBA Players Association President Billy Hunter said that he doesn't buy the league's economic figures and is telling his players to prepare for a lockout.
In Vegas, this is the buzz about next summer:
It's not if there is a lockout, it's how long it lasts.
Off-the-record conversations with multiple people here — on both sides of the negotiating table — have had that one common theme: A lockout is going to happen. "Inevitable" was a word used. They all know it is coming. Most just hope it doesn't bleed into the season and really turn off fans.
They don't expect that to be the case. Games will be lost. Rhetoric will fly. It will be ugly. UGLY.
And fans will be turned off.
The game is thriving right now. The Lakers/Celtics finals had the best ratings in six years. The buzz around the SuperFriends in Miami is huge. Thousands of people are selling out a gym in Vegas in July to watch John Wall play in an organized scrimmage.
The owners talk about wanting a more NHL-like financial model. They may want to talk to those NHL owners about the ratings and popularity hit the sport took from its extended lockout. That has been a big hole to climb out of. The players need to give, too, just because owners can't help themselves and give out bad contracts doesn't mean the system really works.
But it's going to take a lockout before there is real give and take, any real compromise. It is not an "if."