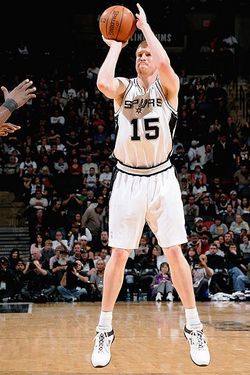 Matt Bonner signed just signed the biggest contract of his life — four years, $16 million.
He is now living it large (as told to the News Express), rolling into the local deli with a new attitude.
"When I splurge," Bonner said, "I'm going to order double meat on my sandwich."
Just like Notorious B.I.G. said, "Mo Money, Mo Meat…" or something like that.
Bonner – a stretch four, if you have to define him — is one of those players more valuable to the team he is with than he is on the open market. Look at it this way, according to 82games.com, Boner led the Spurs in +/- two seasons ago and was third this season behind Manu Ginobili. While that stat is not perfect, the fact is if the team is that much better when he is on the court over two seasons, he has value.
Boner isn't flashy, on or off the court. Which also fits in with the Spurs. He likes a good deli, not fancy foods.
And the man likes his meat.