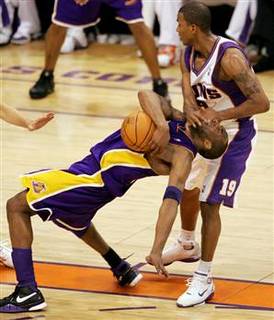 According to Marc Stein of ESPN.com, free agent guard Raja Bell
will sign with the Utah Jazz
. Bryant was supposed to meet with Bell to recruit him to the Lakers, but the Jazz signed Bell to a deal before the meeting could take place. 
The 33-year old Bell isn't getting any younger, but his defense, toughness, shooting ability, and intelligence make him a natural fit in Jerry Sloan's system. Bell played for Sloan during the 2004-05 and 05-06 seasons, then spent the next six years with the Suns, Bobcats, and Warriors.
Los Angeles would have been a great place for Bell to chase a ring, but the Jazz were able to offer him around $10 million over the next three years, which is much more than the Lakers would have been able to offer Bell. 
This signing makes it all but official that Utah will not match the 4-year, $34 million dollar the Blazers gave to Wesley Matthews, and multiple sources are reporting that the Jazz have told Matthews they do not plan to match. If healthy, Bell will be able to replace much of what Matthews brought to the Jazz, and he comes with more experience as well as a lower price tag.