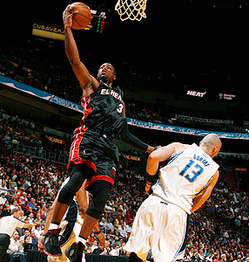 Some pundits (and a few of the NBA's advanced stats community) are pretty willing to hand the Larry O'Brien Trophy to the Miami Heat.
The other 29 teams, not so much.
Actually, make that 30. Because Dwyane Wade doesn't even think the Heat are the favorites, as he said before his charity golf event to AP.
"The Lakers are the champions and we know the Lakers are very good," Wade said Wednesday at a golf tournament he co-hosts with Alonzo Mourning. "That's the team that everyone's shooting for and they should be. Not the Miami Heat. The Los Angeles Lakers."
Think about the matchups for a minute. Chris Bosh on Pau Gasol, fun because of different styles, but kind of a wash. Kobe Bryant and Dwyane Wade… I'd lean Kobe but for the sake of argument we'll call it a wash (these are the two guys on the teams with the real killer instincts). LeBron James is going to get his, but Ron Artest is going to make him work for those.
Then who covers Andrew Bynum? The most likely candidate to slow him is his own knees. The Heat have Big Z who is a big body but a healthy Bynum destroys him.
And while Mike Miller and Udonis Haslem are quality, Lamar Odom has more talent than both of them. The person most likely to stop Odom is Odom. As always.
Bottom line, the matchups still make it look like LA is the team to beat. You can bet that television executives at ABC would like to put that to the test next June.