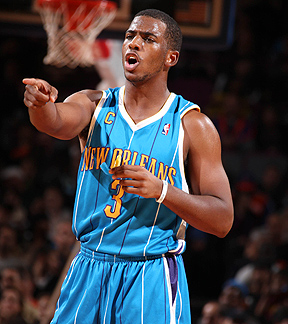 There is more spin going on around the New Orleans Hornets right now than in the White House press room.
Here is what we know: Jeff Bower is out as general manager.
And that keeping Chris Paul happy is by far the most important thing to the franchise, and they are not doing a good job at that.
After that, the stories are totally different, depending on who you talk to.
Hornets' management is spinning that they "mutually agreed to part ways" with Bower because he didn't do enough to defuse the Chris Paul trade rumors. (Does anyone actually believe that it was mutually agreed? No? Thank you.) That is what team president told the Times-Picayune.
"This is something that we felt working with Jeff that we needed to find a different way of approaching our work, and again we felt it was a good time to get a clean start," team president Hugh Weber said. "You cannot do the same things and expect a fresh result. It was a matter of our organization growing in a way our ownership would feel comfortable.

"We felt we needed to be progressive and different and look at things from a prospective. Again, we talked about this before — you can't keep doing the same things and expect a different result."
Other GMs around the league say that is all spin. Or raw fertilizer. Whichever you prefer. They said Bower told them Paul was not available at any price and it was others putting it out there he was. CBSSports Ken Berger laid out this spin in his story.
Now someone is trying to save face by blaming Bower's "mutual parting of ways" on his supposed desire to trade Paul, which is laughable. The only way Bower would've traded Paul this summer, rival executives say, was if there was a directive from ownership to do so for financial reasons.
Here's the bottom line: Chris Paul is watching this and shaking his head. His deal is up in two years, and right now he is on a seemingly rudderless ship. With a new owner coming in. Maybe. There's a great quote in the Berger story.
"Peter Holt wins for a reason," a front office executive said of the Spurs' owner, who has kept GM R.C. Buford and coach Gregg Popovich in lock step through San Antonio's run of success. "Jerry Buss wins for a reason. They're letting basketball people make basketball decisions. Oklahoma City is the best team in Western Conference for the next 10 years, in theory, and it's because the owner is allowing Sam Presti to do his job."
The truth of who said and was doing what in the Hornets front office probably lies somewhere in the middle. And it's also irrelevant. What matters is building a winner and nobody has confidence that is the direction the Hornets are headed right now. Nobody is even confident George Shinn is going to actually sell the team. Which was supposed to happen in April.
And if that includes CP3, things are going to get much worse on the bayou.