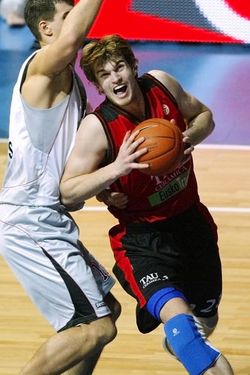 You know what deal Western Conference executives have been raving about this week in Vegas?
Tiago Splitter to the Spurs. A deal that became official now and at an incredible price of three years for $11 million. Splitter clearly wants to be here as a he took a paycut to leave Saski Baskonia, the team he just led to the Spanish League title.
Splitter is the best center in Europe right now (or was, technically). He is 6'11", skilled but physical as well. The 25-year-old Brazilian is the entire package. Look for Antonio McDyess to remain the starter at first, but Splitter may push him out of that role later in the season, once he learns the system.
His game may look familiar to Spurs fans — he says he has been watching and trying to copy Tim Duncan for many years. If there is one thing Splitter can do, it's help Gregg Popovich keep Duncan's minutes down through the course of the regular season. Keeping him fresh for when it matters, and a fresh and healthy Spurs team in the playoffs could be dangerous.
Splitter was drafted in 2007, but was pretty ticked when he was drafted, he admitted to the San Antonio Express News. Not because the Spurs drafted him, but because he had been led to believe by his advisors that he would go in the top 10, not drop all the way down to the Spurs closer to the end of the first round.
So he stayed in Europe for three more years, meaning the time of what would have been his first rookie deal ran out and the Spurs were allowed to pay him more.
"I realize where you have the opportunity to be — on a team that is international and a team that won titles with such good players, Manu (Ginobili) and Tim Duncan and Tony Parker," Splitter said. "Then I realized that I'm in good hands, and the team who had my rights was great for me."
Do not sleep on San Antonio next season.