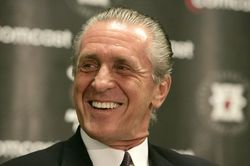 In the summer of 1996 — while you were watching a Charles Barkley-led Dream Team III roll to a gold medal in Atlanta — Juwan Howard was a rising star in the NBA. He was giving the Bullets 22 and 9 and he was just going into his third year in the league.
And Pat Riley wanted him. Badly. He even got him. Howard agreed to a seven-year, $100 million deal, even though he really wanted to stay in Washington.
Then the NBA voided the deal. Howard quickly signed a larger deal with Washington. And that may be as angry as Pat Riley ever was publicly with the NBA.
Fourteen years later, Riley finally got Howard again. He's gotten a shell of that 23-year-old Howard, a guy who is much slower but also much more savvy. A guy who can still knock down some shots. A guy the Heat know cannot lead them to a title like he might have 14 years ago, but a guy who could provide some depth and glue to get there now.
Here's what was going on in 1996 (besides you not being able to escape No Doubt's "Don't Speak" on the radio):
Riley got Howard to sign even though Howard's heart was still really in Washington. Plus the Wizards could offer more money, but they were slow to act.
Then the league shot down the Miami signing because it said the Heat already had Alonzo Mourning under contract and combined with a previously miscounted bonus structure to Tim Hardaway and P. J. Brown there was not enough cap space.
Riley was incensed, as these quotes from the New York Times show.
"There was not one mistake made by us when it came to the salary cap," Riley said in a conference call with reporters. "We did not forget how to add. We never broke the rules. We played within the rules of the collective bargaining agreement. The only people who broke the rules were the N.B.A., because they changed the rules as they went along. That's a fact."

"Mickey Arison is one of the people who pays the commissioner's salary," Riley added, referring to the Heat's owner. "I have no idea why we didn't get cooperation, despite the fact we were within the guidelines. They took Juwan Howard and put him with the team he wanted to be with. They didn't want him down here….

"The day that Juwan Howard signed a contract with the Washington Bullets is the day I hit a new low in my 30 years in the N.B.A. I knew that once he signed that contract, we would probably never get him back, even if we took it to the Supreme Court and won it, because he wanted to stay in Washington. It's very disconcerting to invest $100 million in a player, to go that far, know that you're going to fight to keep him, and they just run to another deal."
He's got him now. And if he can help the SuperFriends that Riley has put together, the past will be all forgiven.