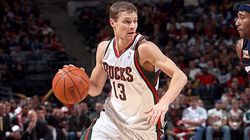 The Minnesota Timberwolves brought in Kurt Rambis to run the triangle, but he had to partially abandon or alter many of those sets last year because he didn't have the right personnel to do it. It was a team where the offense had to start with a slashing point guard, but the triangle is not an offense that wants a ball-dominating point guard (see Derek Fisher, John Paxson, Steve Kerr).
So, the Timberwolves have gone out and gotten another strong point guard. To go with the two they have and the best one of all still stashed over in Europe.
The Timberwolves are very close to a four-year, $16 million deal with Luke Ridnour, according to Gery Woelfel of the Journal-Times.
Ridnour is a good point guard — better than the two on the roster now, Jonny Flynn and Ramon Sessions. Ridnour shoots at a higher percentage both inside and beyond the arc than those two and his PER is considerably higher. In that sense, the T-Wolves are getting a better player. The only caution is that Ridnour just had a season far better than any of his previous ones — he could return to earth this season. Even if he does, he's still the point on the roster, and he runs the pick-and-roll well.
The best teams work because the GM and coach are on the same page, and frankly it's a little tough to figure out what David Kahn is thinking. Okay, more than a little tough.
They have an offense that does not require a traditional point guard but they are about to have Ridnour, Flynn and Sessions in house (although they are trying to trade Sessions) plus there is Ricky Rubio stashed overseas and he could come out in 2011 (lockout depending, most likely).
Then there are the frontcourt moves, like trying to trade Al Jefferson for next to nothing but signing Darko Milicic to a $20 million, multi-year deal.
I give up trying to figure it out.