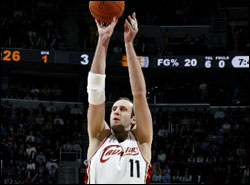 Kind of hard to picture Big Z in any uniform but Cleveland's. But the tough week for that city continues.
Zydrunas Ilgauskas is going to sign a deal to join the Miami Heat, according to Brian Windhorst of the Cleveland Plain Dealer. Terms of the deal are not yet public.
Along with Juwan Howard, Ilgauskas becomes the second older big man the Heat have locked up in 24 hours. Both are pretty slow at this point, but both also have some shooting skills and a few veteran tricks up their sleeves. Be warned, though Big Z saw considerable fall of in his game last year, with his shooting percentage falling 30 points and his rebounding and other numbers dropping as well. Still, he can give the heat some decent minutes and be a big body in the paint they need to defend the rim.
With the Superfriends in place, these kind of signings are what is left for the Heat, and if these guys can stay healthy it is a big boost.
Length of the deal is the big question, Big Z will turn 36 next season. That didn't stop the Lakers from giving Derek Fisher a three-year deal, but that doesn't mean the Heat should replicate that effort.