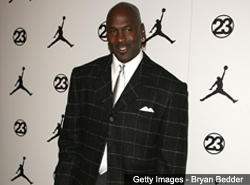 Michael Jordan may made a descent owner after all.
He had second thoughts about shipping out two solid big men — Tyson Chandler and Boris Diaw — for one nice point guard — Jose Calderon. He was right. The Bobcats are now out of the reported big three-team deal, according to Ken Berger at CBSSports.
Toronto should be a little bummed, but not that much. The bigger half of the deal for them, moving the seemingly unmovable contract of Hedo Turkoglu, is still on.
What is left of this deal will send the speedy backup point guard Leandro Barbosa to Toronto for Turkoglu. It's really a win/win deal.
If Toronto really wants to run now, Barbosa is the guy. He's as quick as anyone in the league. He is a year off an injury and if he can return to his 2009 form he can score fairly efficiently and give the Raptors some assists. And turnovers, but more assists.
Turkoglu was a bad fit in Toronto but could be reborn in the ball-handling forward role where he did so much better in Orlando. The Suns are loaded with interesting forward combinations when you look at Turkoglu, Grant Hill, Jared Dudley, Josh Childress and Hakim Warrick.