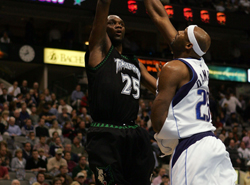 Al Jefferson is not perfect, but the man had two 20-10 years, is 25, and gave Minnesota 17 and 9 last year trying to come back from a knee surgery he should be past this season.
Minnesota's telegraphing of trading him was so bad Utah was able to get him for two first round pick, in a deal expected to be finalized later today according to Marc Spears at Yahoo. Utah had been considered the frontrunner so this is not a surprise.
And it's a great pick up for Utah — they essentially traded Carlos Boozer for Al Jefferson this summer. Jefferson is half the price, scores and rebounds close to as much (Boozer is a more efficient shooter) and if you compare career PER they are very close. Neither of them plays great defense. Basically, Utah doesn't take a step back at the four.
Minnesota wants to build around Kevin Love down low and the Jefferson/Love pairing did not work well. So if they want to move Jefferson, I get that.
But they so telegraphed what they were doing that every team in the league lowballed them on offers. Guys that can be 20-10 guys and are 25 do not get dumped out in a salary clearance for a couple picks (one of which, belonging to Memphis, is lottery protected).
Minnesota's frontcourt now is Darko Milicic, Kevin Love and Michael Beasley coming off the bench. Not to worry though, they have plenty of point guards to make up for it.