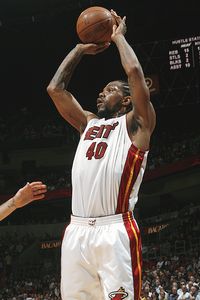 For once, it wasn't about the money.
Udonis Haslem got much larger offers from the Dallas Mavericks and Denver Nuggets and is returning to the Miami Heat, according to our own Ira Winderman (writing for the South Florida Sun Sentinel.).
Haslem had wanted to stay in Miami, but he wasn't sure how much the Heat could offer after signing LeBron James, Chris Bosh and re-signing Dwyane Wade. Estimates were he could get up to $4.3 million, maybe less.
Meanwhile, both Denver and Dallas offered the full mid-level exception of $5.8 million. Both are competitive teams, both good franchises, both have good fan bases.
But they were not home. Miami was home — and that's where he is staying.
Oh, he makes them considerably better now, too. They are getting some depth. The Heat will bring Haslem and Mike Miller off the bench. However, the Heat still need to find a center to play some defense in the paint (not Bosh's forte) and a point guard.