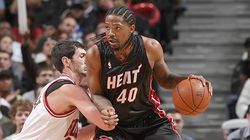 UPDATE 3:23 pm: Just to add to the options for Haslem, the Denver Nuggets are also making a hard push for him.
Denver also is offering the full mid-level exception, just like Dallas. And just like Dallas, they are looking for front line guys to match up against the Lakers.
9: 34 am: How badly does Udonis Haslem want to play for the Miami Heat? A couple million dollars a year worth?
That is the choice coming before him, according to Yahoo Sports.
Haslem is loved in Miami. And he loves it there. The Heat had a couple hundred people show up at his house on his birthday for a surprise party last month. They keep telling him how much they want to re-sign him. That is true now more than ever as the Heat desperately need big men for their roster.
But they can only offer around $4.3 million. Maybe less. Depends on how things shake out in the contracts for LeBron/Wade/Bosh as well as Mike Miller and maybe Derek Fisher.
Dallas, on the other hand, is close to offering three years at $5.8 million, the full mid-level exception. With raises that is going to shake out to nearly $20 million.
Over the course of three years, that's leaving about $5 million on the table. And he is not Wade — he does not make so much that leaving a lot of money on the table doesn't matter. Haslem made $7 million last year and he's not rolling in endorsements and shoe deals.
Haslem is a solid, professional forward, which is why he is in demand. He can defend, rebound and score a little. The Heat need him because they need some good players to go around their big trio. The Mavericks need him because they need a stronger front line to compete with the Lakers.
So Haslem faces the tough question: Money or home? No easy call.