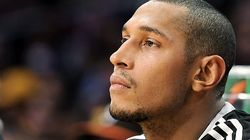 UPDATE 11:57 pm: This deal may fall apart by the time you wake up in the morning. The seemingly omni-present Adrian Wojnarowski of Yahoo tweets that this seemingly done deal is now on the rocks.
You can thank MJ.
Charlotte owner Michael Jordan has had "second thoughts" on trade with Toronto and deal is suddenly in peril, league sources tell Y! Sports.
1:01 pm: Here is the upshot of a complex trade about to go down: The Toronto Raptors have the chance to run an interesting basketball experiment this season — what if we start two big men who don't like to go near the basket or rebound?
They already had Andrea Bargnani, and now thanks to a trade they have landed Boris Diaw from Charlotte.
Toronto is on the verge of a deal that would net them Boris Diaw, Leandro Barbosa and Tyson Chandler, would net the Suns Hedo Turkoglu, and giving the Bobcats Jose Calderon. The details of this (including if Chandler is a part of it) are still being finalized.
I'm just fascinated by the idea of a Diaw/Bargnani front line. Throwing in a solid defending and rebounding presence like Chandler (at least when he's healthy) mucks up my dream with actual basketball strategy.
Diaw is a decent player, he shot 48.9 percent last year in giving the Bobcats 11 points a game (in 35 minutes). But he does not rebound, he is a power forward who likes to hang out on the perimeter (and when pressured during the Orlando playoff series started jacking up a lot of bad shots).
Diaw is fine at the four, so long as you pair him at the five with a guy who likes to do the dirty work of rebounding and protecting the rim and just banging bodies. Like Chandler.
Bargnani is not that guy. He may be more allergic to the paint than Diaw. Toronto is forming what may be one of the best teams in the EuroLeague, except they have to play in the NBA. The Raptors need to come up with a rotation of big men where solid (if overpaid) Amir Johnson and recent draft pick Ed Davis get a lot of burn to actually have a big near the paint.
If they make the smart move they start Bargnani at the four, Chandler at the five. But we can dream of those Bargnani and Diaw moments.
Charlotte on the other hand saves a lot of money — Diaw makes $9 million this season and next (player option he will pick up) — and will start Tyrus Thomas anyway, so might as well move Diaw.