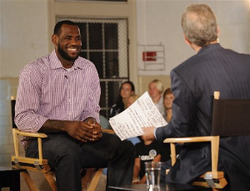 Backlash? Who cares?
LeBron James' "The Decision" got killer ratings and is a blueprint for the future if you ask Ari Emanuel. And if you don't know who he is you don't read the Hollywood trades — he is a super agent. William Morris Endeavor Entertainment. Watch Entourage? The Ari Gold character is partially based on him. He is a true power broker in the entertainment industry.
If he wants to see more of these, you will see more of these.
A fascinating story in Ad Age Monday includes an interview with Emanuel telling us how "The Decision" came together with Emanuel help pushing it.
It began when Mr. Emanuel was sitting with media mogul David Geffen at an NBA Finals game in Los Angeles last month and was approached by Mr. James' business manager, Maverick Carter, and Mr. (Jim) Gray. The group talked about how best to announce Mr. James' team choice and settled on the concept of a TV show.
We knew from other reports that Gray had been in on this from the start. He had helped come up with the idea of a television show. So they started pitching the idea and ESPN was interested.
But the egofest that was the July 8 show almost was worse. It was almost an entire night of ESPN ego stroking.
The plan was then to have Mr. James make his announcement in a special on ESPN on July 14, prior to the network's annual ESPY awards show. After the announcement of where he would play next season and the conclusion of the one-hour show, Mr. James would then walk onstage during the live telecast of the 18th annual event from Los Angeles and present the night's first award.
I just threw up in my mouth a little. Fortunately, the timing of the NBA free agency period didn't match up — too many contracts would be in place by the 14th, teams would have made plans. Plus, we all already pretty much knew it was Miami before the pick was announced, six days later and there would have been far less suspense.
As for the media and public backlash on egopaloza? Emanuel does not care, he think it worked just fine.
"Everybody can say what they want — it was the wrong decision, there was too much hoopla, whatever — but for me it was about doing the event, getting the advertisers to participate and doing it for charity," Mr. Emanuel said. "This was a major success for advertisers, and we're getting closer to pushing the needle on advertiser-content programming."
Great. Just great.
Emanuel got the ratings he wanted. These were big numbers. In his mind that justifies another one. And the image of the athlete? Whatever.