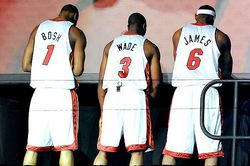 Did the Miami Heat cheat? Looks like we'll never know, officially.
Mark Cuban isn't sold that how Miami ended up with the Superfriends — LeBron James, Dwyane Wade, and Chris Bosh — didn't involve some shady back-room deals that violate league policy. He wants the league to look into it.
But it appears neither Cleveland or Toronto is going to file a formal request for an inquiry, according to Marc Stein at ESPN.
After the Dan Gilbert tirade, the Cavaliers are trying to move on, not revisit the past again. And Toronto knew that they were going to lose Chris Bosh all along, they were better prepared.
Was there tampering? Not through official channels. Everyone involved is far too smart for that. But in the constant flow of back-channel communications there was. It just could never, ever be proven. And the teams are as guilty as the players here. You think free agency started July 1? Ha. Talks with players had been going of for weeks (or longer) with unofficial contacts and little things whispered by third parties.
That includes here. Was Miami working it? Sure, unofficially. The three players were talking and saying they wanted to do something like this for years. But none of this was done in a way that could be proved.
To that end, time to move on from the investigation angle. And move on to figuring out who can play Center for the Heat.