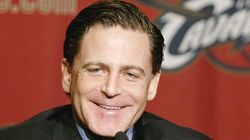 Dan Gilbert flew off the handle Thursday night and said some things he'd like to take back. We've all been there.
We also know you can't take them back. You live with it. Gilbert got personal in calling out LeBron James, gave up the high moral ground and lost any chance to be the sympathetic figure in all this.
Gilbert spoke with Ian Thompson of Sports Illustrated after sleeping on it for a few days, and if he sounded like this the night of the incident, he might have garnered that sympathy.
"We really believed until the end that he was staying," Gilbert said. "We were pretty shocked, to be honest with you.

"When [LeBron and his advisers] announced they were going to do [the team presentations] in Cleveland and not go on their tour, for us that was another sign that this guy and these guys can't muster enough energy to go on the road — how is he going to move? Going through the process, we felt really good. We felt our meeting went good, and we had another meeting at his house 10 days or two weeks before that.

"The last few days when it got set up in Connecticut [to broadcast his announcement], we couldn't figure it out. It was just very bizarre. Why is he going to the Boys & Girls Club in Greenwich, Conn.? We started thinking to ourselves, it doesn't make sense. We can't think he's going to go on national TV and build it up and humiliate and disgrace Cleveland, Ohio, by saying he's leaving. The only way he comes out of this positive is if he announces he's staying, because otherwise he's going to destroy himself. That was our thought process. We knew it was more than a 50-70 percent chance he was going to stay."
They were wrong. Then Gilbert was wrong calling LeBron narcissistic and cowardly. LeBron made his choice, and while you can question how he went about the announcement, the choice was his.
Gilbert even said Cleveland would win a title before Miami.
"I know I made that crazy promise," the Cavaliers' owner said of his response to the departure of LeBron James, "but it was more of a rallying cry to get people to rally around that message."
That doesn't mean he is backing off that promise, though.
"I don't think their experiment is going to work," he said. "But that's just me. I just don't see Dwyane Wade and LeBron James gelling together on the court."
Seems reasonable. Now. But it's too late.