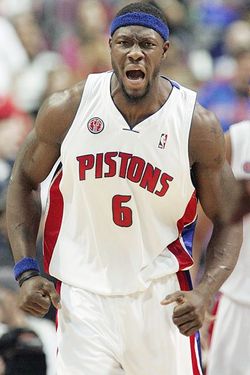 Ben Wallace should retire a Piston. It just seems right.
Now he will. According to Associated Press Ben Wallace has agreed a two-year deal to stay with the Pistons. He will make $1.9 million each year.
"This is the place I want to retire," Wallace said in a telephone interview with the AP.
Wallace had a resurgence last season. He led the Pistons in rebounds per game, played solid defense, shot at one of the highest percentages of his career, had the team's best raw +/- numbers (and one of the better adjusted) and generally played a better brand of basketball than we had seen from him since the Pistons championship season.
After the season, he was debating whether or not to retire, saying that the dings and bruises, the little injuries that accumulate over a season, were harder to overcome and wearing on him more.
He's staying. Next season he will turn 36, so the one good season could have been a bit of fools' gold. But good big men are hard to find in this league (just ask the Heat as they look for one), and in that context and at this price this is a good deal for Detroit.