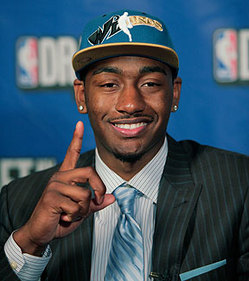 John Wall is lightning quick. You think you know that watching his televised games while at Kentucky, but until you see him in person you don't realize just how quick. It's impressive, bordering on insane.
He flashed that speed in his first ever Summer League game. Plus he showed his great length, good defensive instincts, and some real feel for setting up teammates. And all at age 19.
But there is also a work to do. He didn't blow anybody away with Game 1. It was nice.
Maybe the play that best sums up his first game: In the second quarter he pushed the ball up off a miss, drove into the lane and put on as quick and pretty a spin move as you are ever going to see and threw up a layup. And the Warriors' Reggie Williams blocked it from behind.
Wall was the attraction and had 24 points on 15 shots, attacked the rim and got to the line. He had 8 assists. He also had 8 turnovers. Oh yea, his team won 84-79, but nobody cares who wins the games at Summer League.
One Summer League game borders on irrelevant. It is like the Rhode Island primary on the presidential election trail. What you want to see is the potential, you want to see him (and any player) improve as the week goes on. But right now, we have just one game to look at (game two is Tuesday against the Clippers).
In his first game of any kind for the Wizards, he pressed. He tried to go to fast and do too much at times. Wizards Summer League coach Sam Cassell kept pulling him aside and telling him to relax.
"His first shot hit the backboard so hard I thought it was going to shatter the glass," Cassell said. "But he'll be fine."
Wall himself said he was playing too fast at first, which showed up in plays like a drive and kick to the corner that was wide of his shooter by 5 feet. Still, Wizards coach Flip Saunders was watching from the wings and was good with Wall's first game.
"If you say he played kind of an average game, that shows you the kind of potential he has," Saunders said.
There were highlights. Wall made a great connection with the high-flying JaVale McGee and had some ally-oops that got the large crowd in Vegas (a sold-out 4,000 seats plus standing-room-only media) leaping up and cheering. McGee did a really good job running the floor and picking up the garbage when Wall missed.
Wall also could have shot a lot more — he was easily the fastest guy on the floor — but did a good job finding teammates at points.
All the potential that has Wall being compared to a better Russell Westbrook, to saying he has some Chris Paul in him, was on display. So was the rookie at 19. What matters is how he looks tomorrow, how he looks at the end of the week, how he looks come training camp and that first game in November. Step one was nice. Not thrilling, but nice.