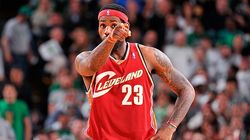 Jesse Jackson went off the deep end today. I have no other way to describe this commentary on the Rainbow Push Website.
"(Cavaliers owner Dan Gilbert) speaks as an owner of LeBron and not the owner of the Cleveland Cavaliers. His feelings of betrayal personify a slave master mentality. He sees LeBron as a runaway slave. This is an owner employee relationship — between business partners — and LeBron honored his contract."
A slave that makes $15 million a year?
Neither Dan Gilbert nor the Cavaliers have commented. Probably best they don't. Take the high road this time.
Jackson suggests that Dan Gilbert thinks LeBron did something "illegal or illicit." Jackson makes some valid points about the importance and role of free agency in sports.
Jackson also misses the point. He misses the emotional connection with players and teams that fans have. That owers have, too. Gilbert's reaction was not that of someone who thought the system was the problem (although there are whispers of collusion). 
Gilbert lost it, and he certainly felt betrayed. But these struck me more as the feelings at the end of a bad breakup relationship. Gilbert — and the entire city of Cleveland — had been emotionally invested in James. They saw him as one of their own. They cared — they cared more than Miami (television ratings for the James egofest television show were double in Cleveland what they were in Miami).
And they got their hearts ripped out. And Gilbert lashed out, expressing what a lot of people were thinking in his city.
But to make the leap from there to Gilbert the slave owner takes some mental gymnastics. Unrealistic mental gymnastics.
This was about championships and money and emotions. It was not about slavery or the system.