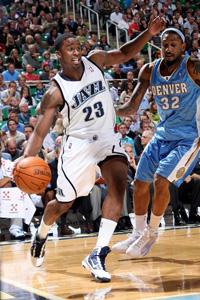 Matthews averaged 9.4 points and 2.3 rebounds for the Jazz in his rookie season. He stepped up his game in the playoffs, averaging 13.2 points and 1.8 steals in 10 playoff games last season. Matthews didn't put up big numbers, but he got them efficiently and played excellent perimeter defense, which quickly made him a favorite of Jerry Sloan's. 
Matthews should be a solid role player in the NBA for a number of years to come, but it really seems like the Blazers overpaid for his services here. 
Last off-season, the Blazers signed Paul Millsap to a four-year, $32 million contract, which the Jazz ultimately matched. There is some speculation that the Blazers are attempting to get the Jazz to overpay for Matthews by matching this offer sheet like they did Millsap's, but that seems like a high-risk, low-reward move if the Blazers don't want Matthews at the price they offered him. There are a number of reasons that could explain why Portland offered Matthews so much money, but the most likely one is that the new Blazer regime is trying to make a splash. Matthews is a very nice player, but I'm not sure how well this contract will work out for Portland if Utah decides not to match.