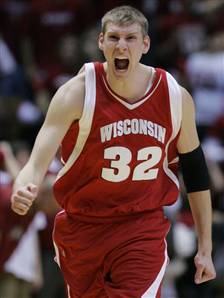 Nuggets summer league invite Brian Butch sustained what appears to be a serious injury during a game against the Los Angeles Lakers on Saturday. According to several sources, Butch has dislocated his left patella. 
Butch went down in extreme pain, and the injury to his knee was plainly visible to the naked eye. Butch was carried off in a stretcher. He gave the crowds a thumbs-up, but was clearly distraught by the severity of his injury and the implications it may have on him. 
The 25-year old Butch spent four seasons at Wisconsin, and was named to the All-Big 10 team during the 2007-08 season. Butch has played professionally in Europe, and was named the MVP of last year's D-League All-Star Game. Hopefully, he can make a full recovery from this very serious injury.