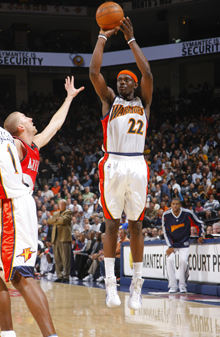 Adrian Wojnarowski of Yahoo! Sports is reporting that the New Jersey Nets have signed free agent guard Anthony Morrow
to a three-year offer sheet worth $12 million
. Randolph is a restricted free agent, meaning that the Warriors will have the opportunity to match the Nets' offer and retain Morrow's services.
Morrow went undrafted in 2009, but quickly established himself as one of the best catch-and-shoot three-point shooters in the league after he was signed by the Warriors. Morrow led the league in three-point percentage when he shot 46.7% from beyond the arc over the course of his rookie year. Last season, Morrow continued to be deadly accurate from deep, and shot 45.6% on threes over the course of the season. 
Morrow isn't a complete player, or a great athlete, even though he's not altogether unathletic or unskilled. What Morrow does is make catch-and-shoot threes, and he does it as well or better as any player in the league. According to Synergy sports, Morrow made 90 of the 177 (50.8%) of his "spot-up" threes last season. If you leave Anthony Morrow open from beyond the arc, he will probably make the shot. That's fairly incredible. 
Almost every team could use a shooter like Morrow, and New Jersey is no exception. Given Morrow's youth, how reasonable the contract is, and how valuable Morrow can be in the right system, one has to assume the Warriors will match and keep one of the NBA's best jump shooters in the Bay Area.