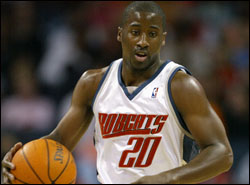 According to Marc J. Spears of Yahoo! Sports, the Knicks are
close to signing Raymond Felton to a multi-year deal
. Felton averaged 12.1 point and 5.6 assists in 80 starts for the Bobcats last season. Felton also dramatically improved his shooting; he shot 46% from the field and 38.5% from beyond the arc last season, with both marks representing career highs. 
The Knicks obviously need a point guard with speed and playmaking ability to make Mike D'Antoni's system work, and Felton can provide both of those things. The Knicks will have to hope that Felton's improved jump shot wasn't just a mirage last season — with Amar'e Stoudemire for a pick-and-roll partner, teams are going to dare Felton to beat them from the outside. 
Point guard prospect Toney Douglas had a promising rookie season last year, but the Knicks apparently want someone more experienced to run the team as they attempt their return to NBA relevance.