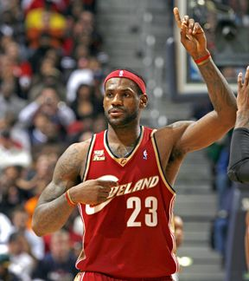 Things that are never going to happen: Dane Cook winning and Oscar for his acting; Jerry Buss selling the Lakers to Donald Sterling; Britney Spears recording a song I tolerate…
And Cleveland agreeing to a sign and trade for LeBron James.
But the Heat are asking.
That according to the guy with the sources in Cleveland, Brian Windhorst. He said the Heat are asking Cleveland about it, with the realization that it won't happen. They are more likely to get a 12-page email from the owner.
The Heat and Toronto have reached the framework of a sign-and-trade, which would allow Chris Bosh to earn the home-team maximum of six years, $127 million. If he got that Dwyane Wade and LeBron James would have to take even less than the roughly $15 million they are looking at now. However, those two make far more on endorsements than Bosh, so maybe they consider it.
LeBron will not have that option.