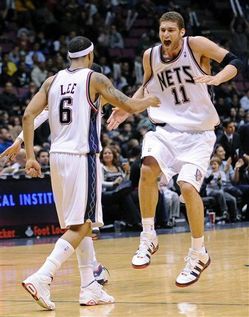 The New Jersey Nets won 12 games last season.
LeBron James wants a title.
LeBron to New Jersey was going to be a long shot because of those two facts. But if not LeBron, then what? Rumors had been that Amare Stoudemire was the fallback plan, but he will take Manhattan. Then there was Carlos Boozer, the Nets reached out to him, but Chicago is his kind of town. They reached out to David Lee but he is headed west now.
They got Travis Outlaw, a good player who is an upgrade from Chris Douglas-Roberts but who is no quick fix.
And that's okay. Better to build right and slowly then to start chasing people to fill in the cap space.
Cap room does not go away. It will still be there when teams are looking to trade salary next February. It will be there when the next crop of free agents arrive. It will be there to use when the time is right.
But the real thing to worry about is who will be deciding to spend that money.
In a week Rod Thorn will step away as general manager. No word yet on who the replacement will be, although former Trail Blazers general manager Kevin Pritchard is next in the interview line.
The Nets are a team that is building; they need the right guy to head up the construction. Maybe that is Pritchard, maybe not. It has to be someone who meshes well
And someone who is patient. Don't do what Detroit did, overpaying Ben Gordon and Charlie Villanueva because you have cash burning a hole in your pocket. Wait it out.
New Jersey is a team on the come. In two years the arena will be in Brooklyn. Brook Lopez is going to be a star. Devin Harris will still be good. Derrick Favors has a world of potential but needs time to grow. Don't rush it. You can get there. Just be steady.
Be patient.