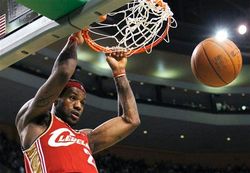 Scottie Pippen has six championship rings. He's a seven time NBA All-Star. He was an NBA All-Star Game MVP in 1994, a 3-time NBA First-Team All-NBA selection, and an 8 time NBA All-Defensive team selection. He is considered one of the greatest players in NBA history and a legend in the truest sense for being the ultimate support player to the greatest of all time.
And today, his name is being tossed around as an insult.
When LeBron James elected to head to Miami to join Chris Bosh and Dwyane Wade to form a combination of talent rarely seen in the salary-cap age, the backlash was swift and brutal. As our own John Krolik laid out, James now faces a backlash, a change to his persona and his identity that seemed impossible three years ago. Those changes are the result of a decision to leave Cleveland, to deliver what can only be considered Brutus' dagger to the heart of Ohio as he traipses off to South Beach.
But beyond the damage wreaked by what he didn't do (re-sign), we have to look at the criticism he now faces for what he did do (take less money to play with his friends on an undeniable contender).
James' decision brought about a rash of comparisons to, who else, Michel Jordan. The ghost that hangs over every great player in this league cast its shadow over LeBron tonight because Jordan would never defer to another superstar. He would never openly admit that he needed help. No, instead Jordan would rise up and take the team on his back, carrying them across the sky and into the sun, stealing its light to bring back and light his bedroom to read by. He would vanquish the Jabberwocky with his ballpoint pen that he signs his lucrative checks with and would never take a step out of the spotlight so he could share it with someone else.
Jordan. The crown that gives us scoliosis.
What James has done, outside of the Cleveland context and the ridiculousness of the television special, is agree to take a paycut so that he can contribute to a better team. To a team with talent so rarely combined that it's difficult to find examples of comparable squads even in eras without the salary cap that's currently giving the Heat organization a noose they're trying to unwrap themselves from.
James is taking over a role that's been suggested by better and worse writers. The Sports Guy himself commented that perhaps James was never meant to be "The Man" but instead the "uber-Pippen." That he's not wired that way. But does anyone doubt James' ability to score? To take the ball to the hole in a close game and create points? Does anyone think he can't come out and score 40 no matter who's next to him?
But all of that is part of the same process everyone is going through. Taking the hamburger and dissecting it based on the pickles, the mayo, the burger, the bun. It's not taking a look at how the burger looks together. Basketball isn't a series of set moves one after another. It's a movement. One, big, long movement in concert with the other players on the floor.
What's a greater accomplishment, then? Forcing your game into some sort of pre-conceived notion of what you're supposed to be (a high-usage jump shot machine), or adapting your game to make the best players in the world even better, and in return, feeding off that synergy to make your game better.
James is a natural passer. He always has been, and no one's known what to make of it. Point guards pass. Centers pass out of the double. But a forward, with that size, with the vision of a point guard, the touch of a center and the speed of a wing, whipping passes flawlessly, it was something we hadn't seen. We've grown accustomed to it, and we honestly haven't seen its full potential. With Wade and Bosh catching his passes, maybe we'll see more of it.
He's a tremendous rebounder, able to out-soar the most athletic players in the league to capture a needed board. He draws fouls consistently. He chases down blocks, converting easy fastbreak opportunities into conversions for his team. He literally transforms easy opponent possessions into quality scoring plays for his team.
All of this without his jumpshot, the range, the ability to finish at the rim. James brings these auxiliary skills to a team that can take full advantage of them, without wasting them. He can be the kind of facilitator that is the difference for teams, without sacrificing defense, or offense, or anything. He can make the team play better basketball. What's the importance of being an "alpha dog" in that scenario?
Wade certainly provides him said "alpha dog." Wade has always held a more obsessive need to win, a more driving sense of the killshot. Wade is simply meaner. Of the three players in this new triumvirate, Wade is the most serious, the most obsessed, the most driven.
So maybe it's true that James is surrendering his "alpha dog" status to Wade's game. But marketing? Leadership? Playmaking? James is king of the roost in that regard. And now begins an era where the three can accomplish something never before seen in the NBA, a synergy and drive between the absolute best players in the NBA all on one team.
And if he walks away with the same kind of bounty that Scottie Pippen did at the end of the day, only with more a of a direct role, that's not a bad comedown. People will say his legacy is tarnished by needing "help." That his legend will be altered. If successful, he'll simply have to console himself with multiple rings, the very thing most players would kill for.
Tonight was the beginning of one of the toughest periods in LeBron James' life, as well as the most exciting and most lucrative. He's going to become more of a facilitator. He's going to become less of an alpha dog. And he's going to become a better basketball player.
Somehow, it's hard to see how James loses in this scenario.