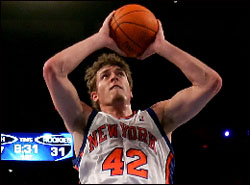 David Lee is crossing country for some big checks, he has been traded to Golden State
David Lee is going to Golden State — and that is good for him in that he will get paid. He agreed to a sign-and-trade deal that nets him $80 million over six years, shipping him to Golden State for Anthony Randolph, Ronny Turiaf and Kelenna Azubuike, as ESPN reports.
Is Lee a good fit on the court in Golden State? Magic 8 Ball says… Ask Again Later.
The team is being sold. The new owner will come in and clean out the coaching staff and front office. There will be a new system in place by next season. Probably. Assuming the sale doesn't drag out like the Hornets sale. In which case Don Nelson is back and all predictions go out the window with the defense.
We do know this — Lee is the best rebounder on a bad rebounding team last year. Whatever system they play that will help.
New York got players that New Yorkers will like. And guys who can play in the D'Antoni system.
Anthony Randolph is an explosive athlete who will tease New York with his talent, but drive them mad by him not putting his whole game together. Save for spurts of brilliance. Which only add to the frustration next game when he takes a series of bad shots that will have all of Madison Square Garden yelling "Noooooo" as he puts it up. Maybe D'Antoni can mature him, but don't bet anything you care about on that.
Ronny Turiaf just busts it every night. He's solid on the court. He gets as much out of what god gave him as any player in the league. He cares. Best bench cheerleader in the league. Fans love him for that. Well, that and the dancing.
And Azubuike is so much fun in the open court. If his knee is healthy and lets him.
All in all, both teams get good players in this deal. Nice to see that for a change in the NBA.