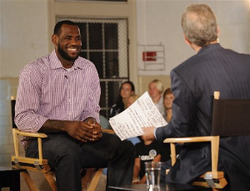 Media is the ultimate democracy in our profit driven world. We know exactly how many people come to this blog every day and what you read. Same with every other Web site out there. Same with television.
Don't like something, ignore it and it goes away. If you can't deliver viewers to advertisers, if people don't watch, you're gone. It's about profit and your eyeballs are the vote.
So keep venting all you want today about "LeBron James: The Decision" and how awkward it felt, how Jim Gray was paid by LeBron's people, How James said things like "One thing you can't control is you never know" all you want. Bottom line, it worked.
ESPN got a 7.3 rating for the show. That was ESPN's best non-NFL number of 2010. It is what NBA playoff conference finals draw (the NBA Finals this year were higher). It's a bigger ratings number than LeBron got when he was in the finals.
You voted. You watched. Vitaminwater and Nike and the University of Phoenix got a lot of publicity before a lot of people.
It could have been handled far more smoothly, no doubt. It will be next time. Because with the ratings success of this you can bet there will be a next time.
ossible rookie of the year.
Maybe that is Turner. Maybe he just has to adjust and he will be fine. But it bears watching.