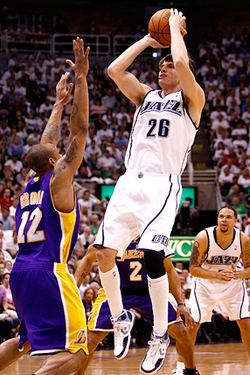 There is the floor-spreading shooter the Bulls needed to round out their roster.
Kyle Korver has agreed to a three-year, $15 million deal with the Chicago Bulls, according to Marc Stein of ESPN.
This is very good deal for Chicago.
New coach Tom Thibodeau plans to bring in a drive-and-kick offense to Chicago, with Derrick Rose slashing into the lane and Carlos Boozer getting the ball on the block or elbow. But that only works if you've got shooters to space the floor and knock it down.
Korver is a pure shooter. He hit 53 percent of his threes last year in Utah. That was a bit of an aberration, but he hit 39 percent the two years before that. He doesn't get to the line a lot or rebound a lot, but that's not what you're paying him for. You're paying him to knock down shots.
And that $5 million a year is about the going rate for a shooter of this ilk today. The smart move by Chicago was to keep the deal at three years, not letting it drag out, keeping their risk down.
Here's your Bulls lineup: Rose, Korver, Luol Deng, Boozer and Joakim Noah to start with Taj Gibson the first guy off the bench. Playing that Thibodeau  defense. That is a good team, a potentially a very good team finishing near the top of the East if things break right.
LeBron who? Chicago is just fine.