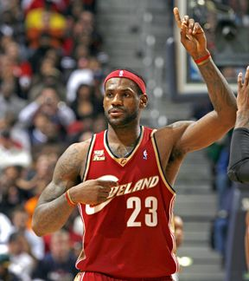 We don't know. We won't really know until some time between 9 and 9:15 pm Eastern tonight.
What we have now is drama. Manufactured drama. And that makes every rumor suspect — if you were trying to create drama for a show like this, you'd leak different things to different people. You'd keep everybody guessing, wondering if it was Colonel Mustard with the candlestick or Professor Plum with the revolver. Miami or New York or Cleveland.
And so it is, a shifting sands of favorites. We don't know and don't trust much of what we hear anymore. We'll be here tonight, live-blogging the end of act one of LeBron James NBA career and wondering what comes with act two. And if the setting changes. But we don't really know.
Here is where things stand early Thursday morning.
The Miami Heat are your front-runners, and things seem to be solidifying for South Beach. Multiple reports have LeBron leaning strongly toward joining Dwyane Wade and Chris Bosh in Miami to form the best three-man unit on a team since Magic/Kareem/Worthy (or maybe Bird/McHale/Parish). To do this, they would each have to take about $1 million less a year, but they could do that and say it's all about winning. Miami would be an interesting basketball experiment — three superstars surrounded by the underwhelming Michael Beasley and nine minimum salary guys (all Miami could then afford). Can that team really win a title?
The Cleveland Cavaliers are everybody's number two. It's his hometown, where his worshiped as one of their own, something no other elite athlete really has. And if has a one-hour national television show to rip out the collective heart of a city, that could have a public relations backlash. (Really, no matter what he chooses there will be a backlash, this is a hard public relations sell after tonight.) The Cavaliers had the best record in the East two years running and have most of that roster back, but can LeBron and new coach Byron Scott get them over the playoff hump?
The New York Knicks are another team whose name you keep hearing in rumors. If LeBron's ego is such that he doesn't want to just win but needs to do so in a spectacular fashion, to create a true legacy, New York is the place. This would be good for the league. The Knicks have a top power forward in Amare Stoudemire and a system with Mike D'Antoni that would have unstoppable force that is LeBron driving the lane getting the ball in more open court situations. He could put up incredible numbers, and keep an army of tabloid gossip columnists employed.
The Chicago Bulls have bought their way back into the LeBron sweepstakes by landing Carlos Boozer. Combined with Derrick Rose, Joakim Noah and LeBron, that team is an instant contender. It would be by far the best supporting cast James has ever had around him. It makes a lot of on-the-court basketball sense. But Chicago has never seemed the preferred destination by LeBron — there was a reason that Chicago went hard after Dwyane Wade, they felt LeBron was not coming there early on. But if it really was just about basketball and winning…
The New Jersey Nets and the pitch made by Russian billionaire owner Mikhail Prokhorov impressed James, by all accounts. And this is a franchise that will be moving to Brooklyn in a couple years. But that's the problem — it's in a couple years. Everything about the Nets says "in a couple years." They have a good young core that needs to develop. LeBron is not likely to wait for that.
The Los Angeles Clippers… we have to mention them. They met with him. This is a big market team that is right there with Chicago in having the best on-the-court unit to put around LeBron — Baron Davis, Chris Kaman, Blake Griffin, and rookie Al-Farouq Aminu. But would you trust the peak of your career to owner Donald T. Sterling?
That's it. That's where we stand. Right now. But check back in an hour or two for when the leader changes. Because if you're going to create real drama, you need to have multiple viable contenders.