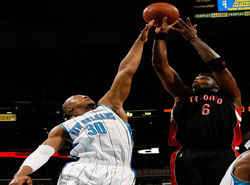 We warned you this was coming last night, and now it has… you really need to learn to trust us.
Jermaine O'Neal has agreed to terms with the Boston Celtics, according to Adrian Wojnarowski of Yahoo. The deal is reportedly two years of the full mid-level exception, or nearly $12 million total.
O'Neal had a good season last year in Miami, a career high shooting percentage of nearly 53 percent and giving the Heat 13.6 points per game. His all around offensive game was better, as evidenced by a PER of 17.9, the best number he has had since his peak years early in the last decade.
This gives Boston some frontline help that they need with Kendrick Perkins out until a couple months into the season. He also gives the Celtics some depth so Kevin Garnett can have his minutes scaled back and keep his knees fresh for the playoffs.
Simply put — this made the Celtics a better team next season. And they are going for it all again, next season.