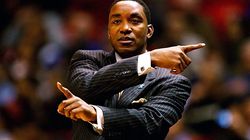 There's a long list of things that were just never going to work but got tried anyway. Napoleon invading Russia. Cop Rock. Lindsay Lohan and acting lessons.
Isiah Thomas selling New York to LeBron James.
Yes, that last one really happened. We're not so sure about Lohan and acting lessons.
When the Knicks needed to make one last desperate pitch to LeBron, it was Isiah Thomas that owner James Dolan sent to Cleveland, according to Frank Isola at the New York Daily News.
Dolan loves Thomas. To the point of it blinding him to Thomas' faults. So we're talking a whole lot of blinding love here.
The irony is delicious, however. If not for Thomas' collecting bad contracts like some people collect stamps, the Knicks would have been able to put in a foundation of players that might have attracted LeBron. Maybe. But they wouldn't be in the desperate spot they are now.
You know the best part? If LeBron surprises us all and goes to New York, Dolan is going to think it was Thomas that did it. Maybe he can give him his old job back, too.