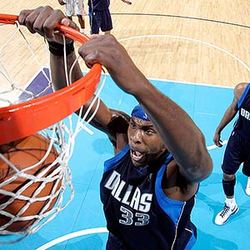 Dallas gets it. Miami is about to get it — you need a big man to go alongside your flashy, scoring power forward.
Brendan Haywood is a big man, and he is going to continue playing alongside Dirk Nowitzki for the next couple years. He has agreed to a six-year, $55 million deal with the Mavericks, according to Marc Spears at Yahoo.
Eric Dampier is still the biggest center on the Mavericks' roster, but his $13 million 2010-2011 salary is unguaranteed, meaning a team could cut him without paying him anything at all. Dallas has been using that as a trade chip with teams trying to bring back some talent that will get the Mavericks over the hump in the West. And by hump we mean the Lakers.
Haywood is an above-average center — he shoots at a good percentage (56 percent with the Mavericks last year), can rebound well and is a solid defender. He's better than Dampier, and he makes the Mavericks better.
Dallas knows this — they have a bunch of advanced stats to confirm what their eyes see — and that's why they made Haywood a priority. He was the first visit for coach Rich Carlisle once free agency opened.
The only question is the six years — Haywood will be 36 years old at the end of this deal. They may be looking to trade that salary by then.
But for now, this is a solid signing for Dallas. Mark Cuban, however, wants more than solid. This is a team still looking to make a big move.