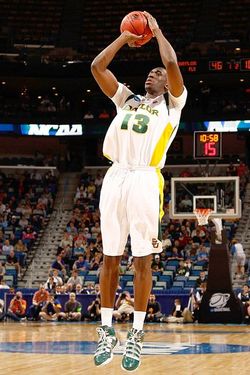 Ekpe Udoh — who the Warriors selected sixth overall in the recent NBA draft — will miss Summer League and maybe more after injuring his wrist in a supervised workout.
The Warriors can't catch a break. So to speak.
Udoh was working out with at the Warriors practice facility in the Bay Area with Stephen Curry when the injury occurred, according to the San Jose Mercury News.
The severity of the injury is not yet known, although he will miss Summer League play, the team announced. He will undergo further evaluation later this week to see what the next step will be.
How long he will be out is unknown, although beat writer Marcus Thompson tweeted he heard it could be the Raja Bell injury, which required surgery and kept him out for four months. In Udoh's case, that could have him back during training camp.
Udoh signed his contract with the Warriors earlier in the day. Just bad luck. The athletic, shot-blocking, strong rebounding forward could bring some needed interior defense to Golden State.