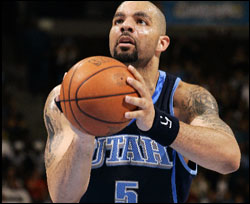 The LeBron James sweepstakes are not over.
Chris Bosh and Dwyane Wade will be in Miami, and it is possible that James will join them (if Toronto will take on Michael Beasley's contracts or if the big three are all willing to take a pay cut). But other teams are trying to provide an alternative.
That alternative is Carlos Boozer.
The Cavaliers, Bulls and Nets have all intensified negotiations with Boozer, according to Chad Ford. In large part that is to help lure LeBron to their cities.
If LeBron can't go to Miami, he still wants to go to a place he can win (he'll get the same max money at any city outside Cleveland). He has never had a true superstar running mate, such as a Pau Gasol for Kobe or the big three in Boston.
The New York Knicks can offer Amare Stoudemire. Not much else right now, but remember at the trade deadline last year LeBron was pushing Cleveland to trade for Stoudemire (they got Jamison instead).
The Bulls have Derrick Rose and Joakim Noah, but with Carlos Boozer in the fold that is a team that would be a contender instantly in the East with LeBron. Even without LeBron Boozer makes that team much better.
Cleveland has won the most games in the East two years running and with Boozer alongside LeBron they would be a contender. However they would need a sign-and-trade to get him out of Utah, and they would bring Boozer back to a city where he has been reviled after leaving them at the alter for Utah five years ago.
The Nets also have a nice young core that looks better with Boozer, and with LeBron would set a new record for biggest single-season turnaround ever.
None of that may matter. But nobody knows what is in LeBron's mind right now, and the speed at which things have changed this off-season means another change could come. Or maybe two.