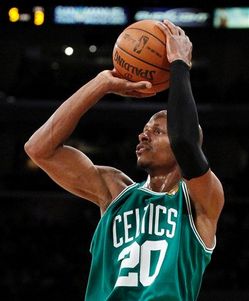 Allen taking a dramatic pay cut to play with a team like Cleveland or Chicago was an interesting pipe dream — with all the super-team talk going on this off-season, plenty of teams could have desperately used Allen's shooting, defense, and ability to produce from the two-guard spot.
However, that was all really just mildly amusing bar/message-board talk. The truth of the matter is that Allen returning to the Celtics makes the most sense for all parties involved, at least for next season.
The Celtics get to keep their big three together, and take one more run at a title with Doc Rivers at the helm. Allen gets an eight-figure salary, the ability to leave after one year if things don't work out, and the chance to make up for his iffy NBA Finals performance. 
Allen will almost certainly retire as the most prolific three-point shooter of all time, but the Celtics know he's much more than just a catch-and-shoot player. He can run the offense coming off of screens, he's deadly in transition, he can drive to the basket, and he's become an extremely effective defensive player. As
Zach Lowe of Celtics Hub noted
, Allen's obsessive dieting and fitness regimen have helped him stay effective late into his thirties. 
This was a great signing for the Celtics, who get Allen's services for at least one more year without having to take a significant long-term risk. The Celtics are yet another year older, coming off a bitter finals defeat, and won't have their starting center for at least the first half of the season. Even with all of that going against them, the Celtics are going to give this group at least one more shot at banner #18. There's no telling how the final season of the "Big Three" era will go, but we do know these Celtics are going to go do down fighting.