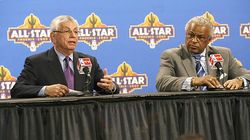 Business is good in the NBA. No. Seriously.
The NBA released the salary cap numbers for next season and after all the reports of doom and gloom the numbers are going up for next season.
The salary cap will be $58.044 million next season, making the luxury tax threshold $70.307 million (for every $1 in salary over the luxury tax line, teams pay $1 in tax). That is well above the $50 million cap figure some teams feared for about a year ago.
The mid-level exception will be $5.765 million. By my estimation, the max contract for a Bird-rights player in the league seven years or more (a team keeping a player, like Joe Johnson in Atlanta) will be $127 million for six years. Non Bird-rights players (like Amare Stoudemire in New York) will work out to about $99 million for five years. The max deal for younger players (like Kevin Durant in Oklahoma City) is $87.7 million for five years.
Those numbers are all up from last year — because basketball revenue was up slightly last year from the year before. The salary cap is based on the "basketball related income" for the teams and league.
So we are seeing teams come out of a recession, it's all good, right? The teams are spending like that right now, it seems. So all those lockout fears are overblown, right?
Wrong. It's worse.
The owners still want to change the economic structure of the game. They do not like the soft cap and its seemingly endless parade of exceptions.
Why? Well, I'd argue it's because they can't restrain themselves from overspending. They have no self-control, look at this off-season. Only a few owners show discipline. And when only a few do, they get outspent and their teams lose out on players, then they lose on the court. Right now Oklahoma City gets credit for doing it all right, but they are not a huge market, and they just gave a max deal to Durant. What happens when they need to pay Russell Westbrook, James Harden and the rest of the team bigger money, too. And everyone is telling them to get the one free agent that puts them over the top. Then are they disciplined?
But back to the point at hand, the owners are going to push hard for a new system. Maybe a hard salary cap, certainly more punitive measures for teams that keep spending well above the cap (sliding luxury tax scale?). And they will want to negotiate salaries down, shorten contract lengths and make deals non-guaranteed (again, to cover their own mistakes of bad deals).
The players now have ammunition to call them on this. The economic system must be just fine if the teams' income rose last year despite the national recession. And by looking at the way they are spending. The players are not going to buy the economic hardship the owners are selling.
And that, my friends, means a lockout is more likely, not less.
And that is good for nobody.