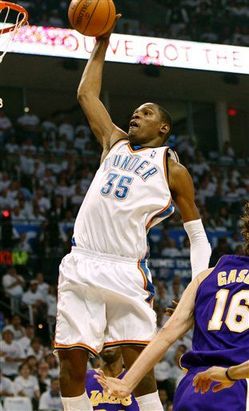 Kevin Durant announced that he has agreed to a five-year extension with the Thunder (worth a reported $85 million) and the only loser is uniform grammar usage. He will remain a Thunder. The Thunder is lucky to have him. Are they? Damn those tricky, singularly plural team names.
Of course, it's of slightly more significance that one of the best players in the league will stay with the NBA's most exciting young core. Everything is going right for the Thunder: Russell Westbrook is evolving, Durant somehow continues to improve, Sam Presti is making the right moves to build the roster patiently, and OKC is taking the league by storm. This is team construction at its finest, and so, so much of it has to do with the phenomenal success of Kevin Durant. At just 21, KD has already joined the league's elite, and doesn't show any sign of halting his ascension.
Now the Thunder faithful will be able to watch that ascension up close for another half-decade.
Durant's been considered a special player ever since his freshman season at Texas. His skills were never in question, but Durant has surprised a lot of NBA fans with his passion. Kevin is a star who is wholly committed to the game and his teammates; he's as down-to-earth as they come, intensely loyal, and he possesses an absolutely fierce work ethic. He is literally the prototype for a basketball-first franchise player, even if he can be a bit soft-spoken when the cameras are on him.
This is a great day for basketball fans. An all-basketball All-Star will re-sign with an all-basketball franchise, the Broingtons will stay bros, and the most charismatic team in the league retains perhaps its most endearing element.