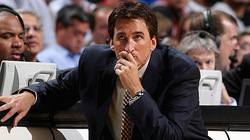 Two years ago, the Chicago Bulls were faced with a choice: the experienced and tactically wise Dwane Casey, or the energetic newcomer who had no experience but had a plan for developing young talent in Vinny Del Negro.
Two years later, the Clippers were faced with the exact same choice — and they had gotten to see Vinny Del Negro in action.
They made the exact same choice.
Vinny Del Negro is expected to be the new coach of the Los Angeles Clippers, as Kevin Arnovitz reported over at ESPNLosAngeles.com. The two sides have a deal in principle, but the details have to be worked out.
Del Negro pitched player development in his meetings with the Clippers, coming in with plans for each player. That impressed on a Clippers team that will be very young next year — Blake Griffin will be key and he is essentially a rookie (after missing his rookie season with a knee injury), Eric Gordon, plus just drafted forward Al-Farouq Aminu and guard Eric Bledsoe. Outside of Chris Kaman and Baron Davis, there is very little experience on this team.
Davis may be the key to Del Negro's success. When focused and motivated, he remains one of the better point guards in the league. But he was frustrated under the controlling Mike Dunleavy and never seemed to care during the Chris Hughes era. Heck, let's be honest — Davis has had issues with every coach he's had since Paul Silas. If Del Negro can get buy in from Davis — real buy in and effort nightly — the Clippers become a much better team. But that seems a long shot based on history (and that one would not be on Del Negro).
Del Negro was not a tactical specialist with the Bulls — they ran a lot of top-of-the-key pick and rolls, their plays out of timeouts were unimpressive, and their sets were pretty basic. Teams could adjust to them and did. Granted, Del Negro may have more raw talent now, but he did not utilize what he had all that well in Chicago. That led to his rocky tenure.
But the Bulls also played hard for him. Players like Derrick Rose and Joakim Noah developed under him. He had his supporters and his teams made the playoffs both years.
Still, it feels like the Clippers failed to learn from history.