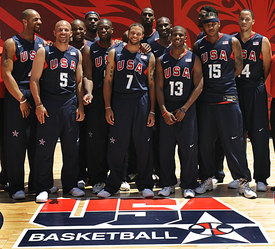 According to NBA FanHouse's Chris Tomasson
, there is a distinct possibility that none of the members of the 2008 USA Olympic Basketball will represent the United States in the FIBA World Championships this summer:
So [the fact that Chris Paul and Deron Williams may miss the games due to injury] means LeBron James, Dwyane Wade, Chris Bosh, Dwight Howard, Kobe Bryant, Carmelo Anthony, Carlos Boozer, Tayshaun Prince, Michael Redd and Jason Kidd are all out of the picture for USA Basketball this summer. Kidd (retired from USA basketball competition) and Redd (injured knee), though, were not candidates due to not being on the 31-man roster. 

"It's a combination of three things, free agency, injuries and having gone hard for a long time," Colangelo said of 2008 Olympians not playing. "And I'm OK with that."
Most of the big stars have legitimate reasons for missing the FIBA games — James, Wade, and Bosh have huge decisions to make. Bryant is recovering from injuries, as is Redd. Dwight Howard has played in 489 regular-season games (out of a possible 492) in his six-year career, and could use work on his individual game. 
Team USA has not won a FIBA championship since 1994, largely because of the increasing talent levels of Team USA's opponents and American players' ambivalence about the tournament. In 2006, Team USA had plenty of talent, but a lack of shooters ultimately led to a disappointing 3rd-place finish for team USA. 
The challenge now will be for Coangelo and Co. to build a real team around Kevin Durant for this summer. Instead of allowing any big-name player kind enough to volunteer onto the team, team USA should consider the floor balance, how the team would work defensively, what players would work in the system, and how each player would compliment the other eleven guys on the roster. If team USA does that, they have a great chance at following up their Olympic victory with a FIBA triumph. If they don't, they may well come up empty for the 4th straight time at the FIBA games.