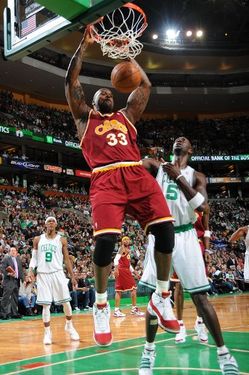 UPDATE July 6, 9:49 am: Perry Rogers, Shaq's agent, denies that any offer has been made. He said they are still listening to Boston, Dallas and Atlanta.
This is what agents do, keep options open for clients. However, frameworks are discussed before offers are made. So Atlanta wants to know Shaq's reaction to two years at $5.8 million, and if he says he'd take it, then he'll get the offer.
All of which is to say — the story is correct, there just hasn't been a formal offer yet.

July 5, 5:17 pm: The Big Peach?
Shaquille O'Neal is seriously considering a two-year offer from the Atlanta Hawks, according to Tim Potvak at FanHouse.
The Hawks got pushed around by the Orlando Magic and swept out of the playoffs in the second round for the second consecutive year. There had been talk about trying to get bigger and more physical inside, rather than starting Al Horford at center.
With Shaq, they could start him at center, make Horford the four, Josh Smith the three, the newly re-signed Joe Johnson at the two then either Mike Bibby or a new player at the point. (Hawks fans are praying it's a new player.) This may not work well, though — Josh Smith was good but far less productive in the limited time he played three. However, the limited time Horford played the four he was dominant.
Or, the Hawks could just trade Smith, something they have been exploring, according to the FanHouse report.
Is Shaq, along with new coach Larry Drew maybe trying something crazy like off-the-ball movement and not just isolation basketball, enough to put them over the top? Well, let's wait until LeBron, Bosh and Wade get around to making up their mind before we decide who wins the East next season.