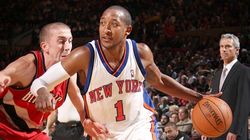 With their last year's backup point guard — Jason Williams — turning 35 next season, the Orlando Magic wanted to get a little younger in their backup to Jameer Nelson.
Hello Chris Duhon.
The Magic have inked Duhon to a four-year, $15 million deal, according to Chad Ford at ESPN.
The Magic have gotten younger, but not better. Last season Williams shot 44 percent from the field, 38 percent from three. Duhon shot 37.3 percent overall and 34 percent from three. Williams had a true shooting percentage of 55.5 percent and a PER of 12.9, Duhon had a TS% of 50.1 and a PER of 10.7. And Duhon was playing in the offense-friendly Mike D'Antoni system.
It's not a great year for getting quality point guards. Maybe Duhon will play better in this structured offense. Or maybe he plays better with Stan Van Gundy yelling at him. Or maybe not. Thing is, the Magic did not just get better, especially if anything happens where he has to play extended minutes.