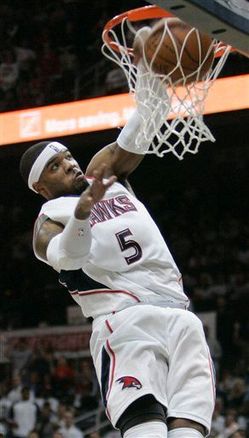 I won't for a second claim to know what any of the decision-makers in Atlanta are thinking, but some rumors make you wonder if they are at all. Tim Povtak of NBA FanHouse posted a story linking the Hawks to Shaquille O'Neal (not crazy about it the idea, but why not?), and as something of a footnote, dropped this on us:
The Hawks have recently been exploring the possibility of trading power forward Josh Smith as part of their summertime makeover, according to sources around the league.
Oh, okay well that's — wait, what? First the Hawks give Joe Johnson an absolutely insane amount of money to preserve the status quo, and now they're bent on destroying it? Somehow this report makes absolutely no basketball sense and plenty of managerial sense (or rather, stands in line with the Hawks' somewhat zany precedent) for Atlanta.
Josh Smith is at least one of the two most productive Hawks. He's a great defender as long as he's not asked to defend wings and a produces like a star even if he's not a go-to option. Smith became a more efficient offensive player in '09-'10 (he posted a career-high field goal percentage at .505), which had a fair bit to do with his continued rise. Yet the Hawks want to take that, they want to take one of the most gifted, young power forward in the game, and swap him out with another player who isn't likely to be as gifted or productive.
Maybe the Hawks have fielded offers that have piqued their interest, but I just can't imagine this ending well. It's so hard to get fair return for talented players (particularly ones), and considering Smith's established role and familiarity with his teammates (as well as new Hawks head coach Larry Drew), doesn't it just make more sense for Atlanta to stick with the All-Star-caliber power forward that they already have?
The answer is yes, unless there's something huge lurking behind the curtain. Obviously if Smith can be moved for one of the league's established studs (and we're talking the LeBron James, Dwyane Wade, Chris Paul, Dwight Howard mold here, folks), the Hawks should try their damnedest to make it happen. But if they're simply moving Josh for, say, a decent replacement point guard, Atlanta would be dooming themselves to mediocrity.
With Joe Johnson set to make a king's wage over the next five seasons, Atlanta won't be a major player in free agency in the foreseeable future. They pretty much have to make modifications through trades, or else depend on the internal improvement from Smith, Al Horford, and Jeff Teague. Neither is likely to produce extremely positive results; Smith and Horford are terrific and Teague is certainly talented, but there's no reason to believe they'll make enough progress to seriously improve the Hawks as a while. Smith, Horford, and Teague will get better and better, but Atlanta needed a serious upgrade to take the next step as a franchise, and instead they gave Joe Johnson what will become known as the worst contract in basketball.
Ultimately, it's an issue of trust. After everything we've seen from the Hawks as an organization with this core in place, do you trust them to get the right returns on a Josh Smith trade?