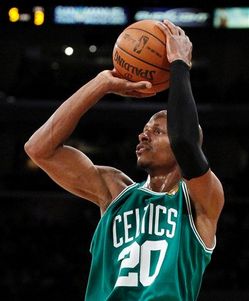 Paul Pierce is back. Doc Rivers is back. Kevin Garnett never left.
Ray Allen… is taking his sweet time.
As he should. Ken Berger explains over at CBSSports.com.
Ray Allen will give the Celtics "every chance of re-signing him," but has been in contact with the top-tier free agents and wants to wait until they choose a team before making a decision, a person with knowledge of the situation told CBSSports.com Monday.

Allen's conversations with Celtics brass have been "productive and cordial," the person said. But Allen, like other free agents, can't have a complete picture of his value or the best situation for him until the likes of LeBron James, Dwyane Wade and Chris Bosh decide where to sign. It is not clear whether Allen, 34, has spoken with those players, but a person close to one high-profile free agent said Allen has been in contact via text message as the Big Three try to assemble a supporting cast for next season and beyond.
Supply and demand. When you are talking about drive and kick players like LeBron and Wade — or a post presence like Bosh — you need to surround them with shooters. Ray Allen is still a shooter, guy just knocked down a record eight three pointers in an NBA finals game. So they are going to come after him, he is going to see what the market is offering, then see if the Celtics want to match that.
Then we'll see if everybody is back for one more ride in Boston.