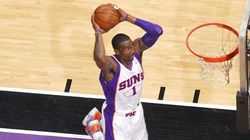 UPDATE 8:32 pm: Amare Stoudemire tweeted this tonight:
I want to say thanks to all my SUNS Fans. Thanks to my PHX SUNS teammates, an the Coaches. I love you guys, sorry It didn't work out. Gone!
5:43 pm: Amare Stoudemire now gets to live up to the fun of being the Knicks big off-season signing. And he seems ready for it, based on what he said at a press conference tonight (via Alan Hahn's twitter account):
Amar'e puts on Knicks hat and says "Yeah, the Knicks are back!"
Several sources — Newsday's Hahn was first with other reports confirming quickly — say that the Knicks and Amare Stoudemire have reached a deal.
It was pretty clear this was going well when Stoudemire's image was on the Madison Garden Marque, in a Knicks uniform, including it saying "STAT City."
But before everyone agreed the lawyers got to earn some extra money. Amare Stoudemire and the Knicks had the framework of a five-year, $100 million deal in place when they walked in the room together this afternoon. But the Knicks made a more formal presentation to the guy they already had sewn up, and then started working the details. All while the lawyers are on the clock.
We also all know there are a lot of questions. After the All-Star break last year Stoudemire was as good a player as there was in the league, but he still has had microfracture surgery on a knee and had major eye issues in the past. There's also the question of if he can carry a team, if he can be the same guy when Steve Nash isn't feeding him the ball. And how will he handle all that in the New York marketplace?
Still, the Knicks got one of the game's elite power forwards. That is a good place to start rebuilding. Now we have to see who else this influences to come to NYC.