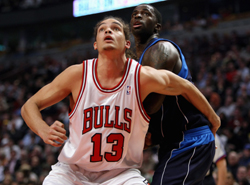 Joakim Noah is not a free agent this summer. Guy is in the middle of his rookie deal, the Bulls could extend him right now, but they are focusing on bigger fish.
Which is just fine with Noah, he keeps getting richer just sitting there doing nothing.
That's because the Bulls are using him to sell the franchise to others, as Marc Stein points out at TrueHoop.
But Noah also happens to be one of the Bulls' major selling points to LeBron James, Dwyane Wade and especially Chris Bosh in free agency, because Chicago's pitch to the top free agents centers around the fact that it already has an elite point guard (Rose) and a blossoming big man (Noah) in place…

Which brings us to one of the biggest hurdles Bulls chairman Jerry Reinsdorf has to clear if he wants to lure a LeBron-and-Bosh or Wade-and-Bosh combo to the Windy City.

The Bulls are insisting to free agents that Reinsdorf's reputation as a reluctant spender is unfounded and that he's willing to spend money when his team has the opportunity to win championships… Chicago, though, has never been a luxury-tax payer. So skepticism remains about Reinsdorf's willingness to spend big money on Noah — when Rose is also eligible for a contract extension next summer — because two high-dollar free agents and two pricey extensions would almost certainly turn the Bulls into a tax team.
If the Bulls can move Luol Deng, it helps their bottom line. But the point is valid — when push comes to shove, will Reinsdorf spend? The push will come first from Noah.