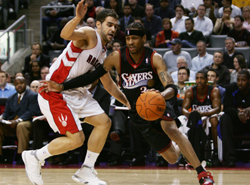 Allen Iverson is ready for his big comeback.
I want to return to the NBA this season, and help any team that wants me, in any capacity that they feel that I can help. I'm disappointed, and I owe my fans more than what they have seen of me the last couple seasons. However, now that my family is healthy and rock solid, I can concentrate fully on doing what I do best.
He wants back in and says he is reformed. I would like a Maserati.
Nobody is crazy enough to give me an Italian sports car. But you can bet an NBA GM will give Iverson a chance.
Look, if he is good to his word and would accept a role coming off the bench, there is a spot for him in the league. He can still finish at the rim in traffic, he can still get to the line. At this point in his career he is the energy scoring fan favorite sixth/seventh man. He could really help a team doing that.
The problem is that in his last two stops — Memphis and Philadelphia — he could not accept that role. He was a distraction, and pushed publicly to start. It was hard on the clubhouse, and he burned the teams that took chances on him. Part of that was a seriously sick child that was an important life issue for him to deal with, but the team didn't feel he handled any of this well. His daughter, thankfully, appears to be better.
If he has changed, if he can accept the role and do it for not a ton of money, he might get a chance… oh, who are we kidding, somebody will give him a chance either way. It's just a question of whether they regret it or not.